Jim Wonnacott
Music Director
Larry Patch Paciorek
Managing Director & CFO
216-524-BAND
Ron Davis
Marketing Director
216-244-0646

Board of Directors
Ron Davis
Don Day
Doug Day
George Ellis
Larry Patch Paciorek
Buddy Sullivan
Joe Trzcinski
Jim Wonnacott
To make a TAX-DEDUCTIBLE donation, please
make your check
payable to:
CLEVELAND TOPS
SWINGBAND FOUNDATION
mail to:

PO Box 31666
Cleveland, OH 44131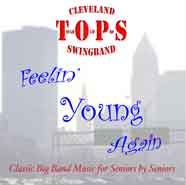 Click on the CD covers
above to hear some song samples.
Jim Wonnacott
Music Director
TOPS BAND PERSONNEL
SAXOPHONES
Ken Mehalko
Mark DiSanto
Larry Patch
Rudy Vincent
Dick Ingersoll
TRUMPETS
Jim Wonnacott
Frank Cosenza
Joe Trzcinski
Mike Galloway
Jim Anastasi
TROMBONES
Bruce Lehtinen
Ralph Joseph
George Ellis
Gary Twining
RHYTHM
Doug Day, piano
Don Day, bass
George Kiteley, drums
VOCALISTS
Ron Davis
Larry Patch
Ruth Griebel
SUPER SUBS
Anthony Anastasi, trumpet
Jim Bair, sax
David Betts, trombone
Jack Brndiar, trumpet
Don T. Day, bass
Doug Day, bass/tbn
Brian Dorr, bass
Mike Fisher, trumpet
Brian Griebel, trombone
Larry Herman, trumpet
David Kay, sax
Bruce Koscheck, sax
Tim Keehn, trombone
Eric Rowles, trombone
Dave Sterner, sax
---
Above: TOPS at Avon Lake High School

Home | Performances | Calendar | TOPS News | Contact Us | About Us | Endorsements | Musician Profiles | Recordings | Booking Info

The
CLEVELAND
Tough Old ProS
SWINGBAND
MUSICIAN PROFILES
Anastasi, Jim - Trumpet. Active in music working as a technician/quality inspector in the King Band Instruments factory and as a professional musician with various area dance bands and other music activities for 70 years. Age-86, married to Kathryn, 2 kids, 3 grandkids - Hobbies: music, golf, flag football.
Day, Don - Electric Bass. Don is a professional musician and active as a booking agent. After performing with the 28th Army Band, he began working with Hal Lynn in 1969 and purchased the Agency in 1982 upon Hal's retirement. He has played music for 62 years, including shows at the Cleveland Arena, Musicarnival, and the Coliseum. Age - 67, married to Marcia with 2 children. Hobby is camping.

Day, Doug - Piano. Retired Band and Orchestra Director, Bay Village High School. Age - 63, married to Jackie, two kids. Has played piano, trombone and bass professionally for 50 years, including eight years as the bassist for the Harry Hershey Orchestra. Presently the pianist and music director of the Don Disantis Orchestra and pianist for the Swing City Big Band. Recently has performed with the Jimmy Dorsey Orchestra, the Pied Pipers, the Four Aces, the New Chordettes and Sandy Hackett's Rat Pack. Very active in the music and worship program at Avon Lake Prebyterian Church as an accompanist and as a member of the Bell and Chancel Choirs. Hobbies - The Cleveland Indians and playing free golf at Sweetbriar where he is a master greens and fairway mower
DiSanto, Mark - Alto Sax. Mark had his own band for many years. He also plays with the Hermit Club band and other big bands in the area. One of the many musical highlights in his career was performing at the Sydney Opera house while touring Australia and New Zealand. He is married to Carol, father of four, a grandfather to 11 and a great-grandfather of 1. When he's not making music you'll find him hunting, fishing, boating, farming and creating woodworking projects.
Ellis, George - Trombone. Retired from a career as a civil engineer with the City of Cleveland, has had a life-long love of music, started playing the trumpet but switched to trombone about 15 years ago. He caused a minor blow-up about his practicing in the attic in Cleveland City Hall which was resolved when it was determined that it was his lunch time...not work time! Age - 75. Married to Cass, 1 kid. Hobbies are music and reading.
Joseph, Ralph - Trombone. Retired music teacher, involved with music for 71 years. Juilliard,Kent State, MA in Arts, many years on the road with name bands out of New York, Front Row Theater. Age 85, married to Norma with 4 kids and 6 grand kids. Hobbies are travel, boating, and a second home in Florida.
Lehtinen, Bruce - Trombone. Retired control systems engineer at NASA Glenn Research Center, starting his 66th year playing the trombone (high school, community bands and orchestras). Began performing professionally 27 years ago: dixieland, swing, big bands, small dance bands,
brass quintets, and a 1920's "hot jazz" orchestra. Age - 74, married to Arlene, 2 sons, 7 grandkids. Hobbies are home repair & remodeling, birdwatching and grandkids.
Mehalko, Ken - Alto Sax. Retired band director, Strongsville City Schools, active as a player and director of the Strongsville Community Band and co-director of the Strongsville City Jazz Band with Jim Wonnacott. A five-time teacher-in-residence at a school for music in Chile as a guest of the Chilean Ministry of Culture and the Ohio Arts Council. A total of 64 years in music. Age - 73. Married to Beverly, 2 kids, 4 grandkids. Hobbies centered around music.
Patch Paciorek, Larry - Tenor Sax & Vocalist. A professional saxophonist, flutist and vocalist with a variety of groups locally and nationally, and a music businessman for over 50 years. Music director for many Cleveland fashion shows and manager of the Cleveland Jazz Orchestra for ten years.
Trzcinski, Joe - Trumpet and Personnel Director. Semi-retired musician with 50+ years experience. Age - 78, married to Pauline, many kids, many grandkids - Hobbies are walking, practicing piano, private teaching.
Twining, Gary - Bass Trombone. Gary interrupted a Masters Degree in Bass Trombone Performance at Indiana University to tour with the New Tommy Dorsey Orchestra for a year, has performed on trombone, bass trombone and tuba in the Cleveland area with many of the shows and stars featured at the Palace, Hanna and Front Row Theatres. He spent seven years as a staff musician in the Las Vegas main showrooms, performing with both star policy acts and production shows. One of Ohio's few Certified Wine Educators, Gary is also a Wine Writer and Wholesale Wine Industry member.
Wonnacott, Jim - Trumpet and Music Director. Retired school music director, Strongsville Schools, 60 years playing trumpet, various bands area bands including his own as leader. Married to Marcia, one daughter. Co-directs the Strongsville City Jazz Big Band with Ken Mehalko. Owner of Parkwood Studios, a multi-media production facility. He has produced and directed documentary films.
Griebel, Ruth - Vocalist . Married to Buddy Griebel, a legendary Cleveland pianist, since 1950. Age - 81. Music has been my hobby and profession. I was one of 12 children and both my parents played the piano. I played piano "by ear" from the time I was five, studied classical in my teens, and later jazz with Earl Rolf. When I was 19 studied Voice with Mary Kay Strasek, and then became a band singer appearing in local night clubs. I performed regularly with my husband, on South Bass Island at a private club, and for the last three years at a restaurant there. Buddy and I also continue to perform together at local clubs and private affairs.

Performing with the TOPS Swing Band has been an exciting experience for me. It is inspiring to be associated with such talented musicians. I am grateful to Dick Wooley for this learning opportunity, and for the friendships that have developed within the group. 3 children, 5 grand-children.
Davis, Ron - Vocalist. Retired Street Superintendent, City of Cleveland. Started playing trombone at age 14, a jump-start into the music business for the next 39 years. Studied acting and playwriting at the Karamu House and the Cleveland Playhouse. Vocal lessons with Bob Beck of the Cleveland Opera. Studied and performed with Ace Carter and with Eddie Baccus the past 20 years. Married, 2 kids, hobbies are music and the performing arts. "Thank God for trombone lessons."
SUPER SUBS
Anthony Anastasi, trumpet
Jim Bair, sax
David Betts, trombone
Jack Brndiar, trumpet
Al Couch, trumpet
Don T. Day, bass
Brian Dorr, bass
Mike Fisher, trumpet
Brian Griebel, trombone
Larry Herman, trumpet
Larry Huntzinger, bass
Bruce Koscheck, sax
Tim Keehn, trombone
Eric Rowles, trombone
Dave Sterner, sax
Contacts:
Jim Wonnacott: E-mail Jim
Ron Davis: 216-244-0646 E-mail Ron
Larry Patch: 216-524-BAND E-mail Larry